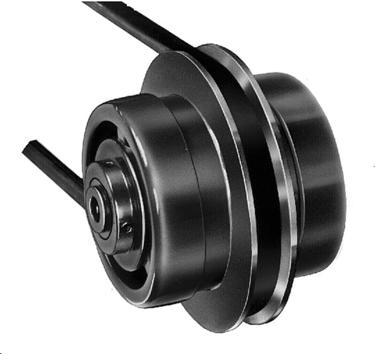 Two Face Movable Design (for standard V-belts)
Maintains belt alignment between the variable speed pulley and the companion sheave. This is an important future with close center distance drives. Models 257 and 256 are an exception, however, and should use recommendation shaft center distances.
Pulley Face Material
Models 140, 150, and 157 use a lightweight, corrosion– resistant, aluminum alloy material. Models 167, 257, and 256 use close-grained cast-iron faces.
Permanently lubricated mobile face bushings
High load carrying, precisely fit bronze bushings with the specially formulated oil impregnation are used to eliminate most fretting and corrosion problems. For severe corrosion conditions, the pulley shaft can be treated to resist the particular corrosion condition
Torque sensing design
Belt tension is regulated to the load requirements. Bushing wear is reduced by the peripheral support of the cam followers. There are no torque carrying keys.
Dimensions and Specifications:
| Model | HP Rating | HP Rating | Torque | Max. | Min. | Ratio | Belt |   |   |   |   |   |   | Stock  | Shaft |
| --- | --- | --- | --- | --- | --- | --- | --- | --- | --- | --- | --- | --- | --- | --- | --- |
| Number | 1750 | 1150 | Capacity | P.D. | P.D. |   | Size | A | B | C | D | E | F | Bores | Travel |
|   | RPM | RPM | 1 lb.-in. |   |   |   |   |   |   |   |   |   |   |   | (inches) |
| DCV140 | 1 | 0.75 | 36 | 3.75 | 1.63 | 2.3:1 | A | 4 | 4.38 | 2.19 | 2.25 | 1.88 | 4.06 | .5•.625•.75•.875 | 1.6 |
| DCV150 | 1.5 | 1 | 54 | 4.7 | 1.88 | 2.5:1 | B | 5 | 4.38 | 2.19 | 2.25 | 2 | 4.06 | .5•.625•.75•.875 | 2.1 |
| DCV157-20 | 2 | 1.5 | 72 | 5.4 | 2.45 | 2.2:1 | B | 5.75 | 4.38 | 2.19 | 2.25 | 2 | 4.06 | .5•.625•.75•.875 | 2.2 |
| DCV157 | 3 | 2 | 108 | 5.4 | 2.45 | 2.2:1 | B | 5.75 | 4.94 | 2.5 | 2.75 | 2.25 | 5.07 | .75•.875•1•1.125 | 2.2 |
| DCV167 | 5 | 3 | 180 | 6.5 | 2.6 | 2.5:1 | B | 6.88 | 5.88 | 2.88 | 3.25 | 2.25 | 5.07 | .75•.875•1•1.125 | 2.8 |
| DCV257 | 5 | 3 | 180 | 5.4 | 2.7 | 2.0:1 | B | 5.75 | 6.38 | 3.13 | 3.5 | 2.25 | 5.07 | .75•.875•1•1.125 | 2.2 |
| DCV265 | 7.5 | 5 | 270 | 6.5 | 3.7 | 1.75:1 | C | 7 | 7.53 | 3.75 | 4.5 | 3.88 | 6.56 | 1•1.125•1.25•1.375 | 2.1 |