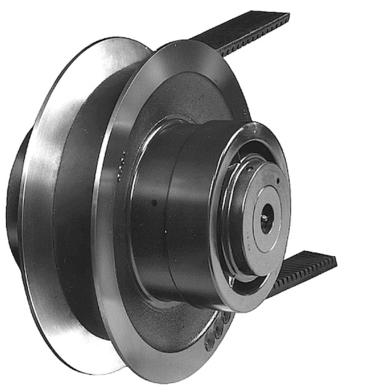 Uses Variable Speed belts. Maintains belt alignment between the variable speed pulley and the companion sheave. The wider varible speed belts allow a greater speed ratio change than standard V-belts while maintioning a match between the included angle of the pulley gaces and the belt.
Pulley Face Material
Models 1160 and 1270 use a light weight, corrosion resistant, aluminum alloy material. Models 1590, 1711, 2011 and 2513 use close grained cast iron faces.
Permanently Lubricated Moveable Face Bushings
High load carrying precisely fit bronze bushings with a specially formulated oil impregnation are used to eliminate most fretting and corrosion problems. For severe corrosion conditions the pulley shaft can be treated to resist the particular corrosion condition.
Torque Sensing Design
Belt tension is regulated to the load requirements. Bushing wear is reduced by the peripheral support of the cam followers. There are no torque carrying keys.
Dimensions and Specifications:
| Model |   HP Rating |   HP Rating | Torque | Max. | Min. |   | Belt |   |   |   |   |   |   | Stock | Shaft |
| --- | --- | --- | --- | --- | --- | --- | --- | --- | --- | --- | --- | --- | --- | --- | --- |
| Number | 1750 | 1150 |   Capacity |  P.D. | P.D. | Ratio | Size | A | B | C | D | E | F | G: Bores | Travel |
|   | RPM | RPM      | 1 lb.-in. |   |   |   |   |   |   |   |   |   |   |   | (inches) |
| 1160 | 1.5 | 1 | 54 | 5.9 | 1.98 | 3:01 | 1422V | 6.13 | 4.38 | 2.19 | 2.25 | 1.88 | 4.06 | .625•.75•.875 | 2.9 |
| 1270 | 3 | 2 | 108 | 7.28 | 2.42 | 3:01 | 1922V | 7.5 | 5.88 | 2.87 | 3.25 | 2.25 | 5.07 | .75•.875•1•1.125 | 3.4 |
| 1590 | 5 | 3 | 180 | 8.75 | 2.9 | 3:01 | 2322V | 9 | 7.06 | 3.53 | 3.87 | 4.25 | 7.13 | .875•1•1.125, 1.375 | 4.3 |
| 1711 | 10 | 7.5 | 360 | 10.7 | 3.57 | 3:01 | 3226V | 11 | 8.66 | 4.33 | 4.5 | 4.25 | 7.13 | 1.125•1.25•1.375 | 5 |
| 2011 | 20 | 15 | 720 | 10.65 | 4.26 | 2.5:1 | 3230HV | 11 | 9.75 | 4.88 | 4.62 | 4.25 | 7.13 | 1.375•1.625•1.875 | 4.6 |
| 2513 | 30 | 20 | 1080 | 12.6 | 4.2 | 3:01 | 4430V | 13 | 9.75 | 4.88 | 4.62 | 4.25 | 7.13 | 1.375•1.625•1.875 | 5.9 |